Events & Specials
Monthly Specials
Our Last 2 Limited Edition Wines for 2015
Each year we purchase a small quantity of limited edition wines from our suppliers. We have found that these offerings are of the highest quality. Our suppliers carefully select these varieties from world class wine regions. For March we are happy to offer you the following wines to make:
Volcanic Red ~ Chile, Curico Valley
Three classic Chilean varietals Cabernet Sauvignon, Carmenère and Merlot make this bold, full bodied blend. It is erupting with sweet fruit flavors from the Cabernet Sauvignon, spicy and earthy notes from the Carménère and rounded out with soft fruit and chocolate notes from the Merlot. Deep red, smooth and balanced, with a lingering finish.
Trio Blanca ~ California
The three grapes that make up this blend are distinct characters indeed. Chardonnay is the popular and adaptable friend with apple and melon characteristics. Chenin Blanc reflects the soil well in its chalk and citrus aromatics, while its acidity anchors its structure down on the palate.
Finally, lady Muscat with her wildly perfumed nose and distinctive "grapey" flavor gives the blend a refreshingly fun and juicy addition.
$230 per batch of 28 bottles (this comes out to $8.39/bottle when you bring your own bottles.) Not a bad deal for wine of this quality.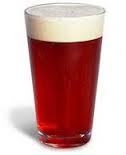 ---
Beer of the Month
Irish Red Ale
$15 off a batch
(not to be combined with other offers)
In a land of opaque beers, another style has survived. The Irish Red Ale is noted for its reddish color, full body and a sweetness not found in its cousin, the English Pale Ale. Straight from the land of Smithwicks!
---
Spring Wine Special
Saturday, March 21st and Sunday March 22nd
Make any batch of wine and get the 2nd for 1/2 price
(Savings of up to $110!)
Break out of winter hibernation, enjoy the springtime weather and save some serious cash on your favorite wines.
Wine making times are on the hour from

9 AM to 4 PM on Saturday

and

Noon to 4 PM on Sunday

. (limited edition wines and port not included. Not to be combined with other offers).
---
Sip and Paint
Wine Glass Painting
Friday, April 17th at 6:30 PM
at 6:30 PM
"Art Happens" will be at IncrediBREW for a hands-on painting lesson. Everyone learns to paint

2 Wine Glasses

while practicing their skills at the art of wine tasting. We'll provide some light snacks and

a bottle of wine

for you to take home to fill your masterpieces.
$40 per person includes everything. Call, email, text or tweet your friends...space is limited so reserve early.
---